Amanda Seyfried näyttelee nuorta ja kaunista Valerieta, jonka sydämestä ja kädestä taistelee kaksi miestä. Hänen rakastettunsa on tummasilmäinen ja hyljeksitty Peter (Shiloh Fernandez), mutta vanhemmat haluavat hänen naivan varakkaan Henryn (Max Irons). Valerie ja Peter eivät halua menettää toisiaan, joten he suunnittelevat karkaavansa yhdessä. Suunnitelmat muuttuvat, kun kylää ympäröivässä metsässä vaaniva ihmissusi tappaa Valerien isosiskon.
Jo vuosien ajan kylän asukkaat ovat onnistuneet pitämään pedon kylläisenä ja rauhallisena tarjoamalla sille täyden kuun aikaan uhrilahjaksi kotieläimen. Mutta verenpunaisen kuun kajossa suden nälkä on kasvanut ja se on riistänyt ihmishengen. Kostonhimoiset kyläläiset kutsuvat apuun maineikkaan ihmissudenmetsästäjän Isä Solomonin (Gary Oldman), jonka mukaan ihmiseksi päivisin muuttuva susi voi olla kuka tahansa kylän asukkaista. Paniikin vallatessa kyläläiset Valerie huomaa, että hänellä on ainutlaatuinen yhteys petoon − yhteys joka vetää heitä toistensa puoleen, ja joka tekee Valeriesta sekä epäillyn… että syötin.
________________
Punahilkka, klassikkosatu puettuna goottikauhuviittaan. Tämähän voisi toimiakkin. Alkuperäinen satu on tarpeeksi pelottava, jotta siitä voidaan kyllä helposti saada toimiva kauhuelokuva. Alkuun kaikki näyttääkin hyvältä, maisemat ovat jyhkeitä ja kaikki sadunomaisen kaunista tunnelmakin tuntuu olevan kohdallaan ja punahilkkakin on herkän ja haavoittuvaisen kaunis. Sudella pelotellaan kylää ja kaikki lähtevät jahtaamaan sutta, mutta sitten kaikki muuttuu. Kylään tulee vahva kirkonmies, joka on tappanut oman vaimonsa ihmissutena ja lupaa pelastaa kylän sitä piinaavalta elikolta. Pian ruvetaan vihjailemaan, että kuka tahansa kylässä voisi olla paha susi ja kaikkien päälle ruvetaan liimaamaan suden vittaa. Homma menee lopulta niin piinaavan pinnalliseksi, että tunnelma muuttuu kauhusta enemmänkin komediaksi. Vielä kun punahilkan mummokin vedetään soppaan mukaan on homma valmis karkaamaan käsistä. "Miksi sinulla on noin suuret silmät" jne. viimeistään tässä vaiheessa vedetään hommalta matto alta ja katsoja alkaa vain odottamaan loppua ja sitä saako punahilkka mielitiettynsä. Tämä menee melkein pahemmaksi kuin Twilight saaga ja Bellan venkoilu vampyyrin ja ihmisuden välillä, hohhoijaa…. Pisteet lavastuksesta ja no siinä se sitten taisi ollakkin.
**
Valerie (Seyfried) is a beautiful young woman torn between two men. She is in love with a brooding outsider, Peter (Fernandez), but her parents have arranged for her to marry the wealthy Henry (Irons). Unwilling to lose each other, Valerie and Peter are planning to run away together when they learn that Valerie's older sister has been killed by the werewolf that prowls the dark forest surrounding their village. For years, the people have maintained an uneasy truce with the beast, offering the creature a monthly animal sacrifice. But under a blood red moon, the wolf has upped the stakes by taking a human life. Hungry for revenge, the people call on famed werewolf hunter, Father Solomon (Oldman), to help them kill the wolf. But Solomon's arrival brings unintended consequences as he warns that the wolf, who takes human form by day, could be any one of them. As the death toll rises with each moon, Valerie begins to suspect that the werewolf could be someone she loves.
________________

Little Red Riding Hood , the classic gothic horror tale , clad in a cloak. Tämähän could order to work . The original fairy tale is scary enough , so that it can be really easy to get working a horror movie. To top all looks good, the scenery is sturdy and all the fairytale atmosphere of the beautiful seems to be in place, and Little Red Riding Hood is a delicate and fragile beauty. The wolf frightened the village and all leave to chase the wolves , but then everything changes. Village will have a strong church man who has killed his own wife the human wolf and promises to save the village plagued by power elikolta . Soon, it comes hinted at some things that anyone in the village could be bad wolf , and it comes on top of all the glue of the wolf shows . Things get in the end so agonizingly superficial, and that the atmosphere becomes more a horror comedy . Even when Little Red Riding Hood pulled mummokin soup that is a tall order ready out of hand . "Why do you have about the big eyes " and so on up to this point hommalta carpet is pulled from under the viewer begins just wait for the end of the year and whether the little red riding hood sweetheart . This goes almost worse than the Twilight saga and vampire Bella's obnoxious behavior and werewolf between , here we go …. Score staging , and no that's all .
(translation by Google)
**
Ohjaaja: Catherine Hardwicke
Pääosissa: Amanda Seyfried, Shiloh Fernandez, Max Irons, Gary Oldman, Virginia Madsen, Julie Christie, Lukas Haas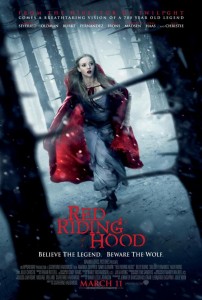 Pictures: www.finnkino.fi/ internet
Trailer: www.youtube.com
Synopsis: www.finnkino.fi / www.imdb.com
Kommentoi