Supermanin epäitsekkään teon siivittämänä Bruce Wayne, joka on saanut takaisin uskonsa ihmiskuntaan, värvää avukseen uuden liittolaisensa Diana Princen heidän kohdatessaan entistäkin vaarallisemman vihollisen. Yhdessä Batman ja Wonder Woman kokoavat pikavauhdilla supersankariryhmän, joka käy taisteluun uutta uhkaa vastaan. Vaikka koossa on nyt ennennäkemätön nippu sankareita – Batman, Wonder Woman, Aquaman, Cyborgi ja Flash – voi olla jo liian myöhäistä yrittää pelastaa maapallo katastrofaalisen hyökkäyksen kourista.
____________________
Justice League on astetta parempi sarjakuvamättö, kuin Batman vs. Superman, mutta ei kovin kummoinen Marvel kohelluksien keskellä. DC comics on yrittänyt luoda omien sarjakuvahahmojensa ympärille massiivisia elokuvia Marvellin tapaan, siinä kuitenkaan kovin hyvin onnistumatta. Perustekijät on Justice Leaguessa kunnossa, mutta käsikirjoituksen keveys ja hahmojen suuri määrä rasittaa elokuvankerrontaa. Elokuva on toteutettu massiivisella 300 miljoonan dollarin budjetilla. Luulisi sillä rahalla saatavan parempaa jälkeä. Luultavasti suurin osa budjetista on huvennut isojen ja kalliiden näyttelijöiden palkkaamiseen. Tämän kokoluokan budjetissa ei kuitenkaa saisi säästellä elokuvan laadussa. Nyt osa digitehosteista näyttää lähinnä Tv sarjan budjetilla kyhäillyiltä.
DC-comicsin olisi kannattanut lisäksi malttaa mielensä ja esitellä Aquamanin, Flashin ja Cyborgin omilla elokuvillaan. Nyt kalliita minuutteja joudutaan käyttämään kyseisten hahmojen esittelyyn ja itse elokuvan tarinalle jää täten liian vähän aikaa kehittyäkseen kunnolliseksi seikkailuksi. Justice league kompuroi jo tuotantovaiheessa. Jack Snyder heivattiin ohjaajan pakeilta viime metreillä ja elokuvan viimeisteleminen jätettiin Joss Wheadonin harteille. Käsikirjoitusta korjailtiin ja sitä oli parhaimmillaan useampikin eri käsikirjoittaja kirjoittamassa. Tästä kaikesta johtuen Justice Leaguesta on kehkeytynyt melkoinen sekametelisoppa ja tuskin viimeisellä Henry Cavillin viiksigatelaakaan ja siihen upotetuilla miljoonilla tuskin tarinaa saatiin parannettua.
Justice League on korkeintaan keskinkertaista sarjakuvamättöä. Saa nähdä moneenko samanlaiseen floppiin yhtiöllä on varaa, ennenkuin se ripustaa Batmanin ja Supermanin viitat naulaan lopullisesti. Ehkä DC comcsin kannattaisi keskittyä jatkossa supersankarien omiin elokuviin ja jättää Marvellin matkimisen niikseen. 
**
____________________
Fueled by his restored faith in humanity and inspired by Superman's selfless act, Bruce Wayne enlists the help of his newfound ally, Diana Prince, to face an even greater enemy. Together, Batman and Wonder Woman work quickly to find and recruit a team of metahumans to stand against this newly awakened threat. But despite the formation of this unprecedented league of heroes-Batman, Wonder Woman, Aquaman, Cyborg and The Flash-it may already be too late to save the planet from an assault of catastrophic proportions.
___________________
Justice League is a bit better comic filming, than Batman vs. Superman was, but nothing special between all comic filming dominating by Marvel. DC comics tries to create their own superhero universe, like Marvel has done with their comic super heroes. Basics are ok in Justice League, but poor script and too many characters makes it too fuzzy and thin. With massive 300 million dollar budget viewer expect much more than this. Maybe too many actors with too big salary is reason for this. Some special effects feel quite poor unfortunately.
DC comics should have use their resources to introduce us some less known super heroes like Aquaman, Flash and Cyborg with their own movies before they rush to dump them all in the same movie. Now there are simply too many stories to tell and focus does not have enough of room to breath. Jack Snyder's replacement with Joss Wheadon at the movies finishing, many screen writers and last but not least some of the re-filming has made the movie too unfocused.
Justice League is mediocre comic book superhero movie. We shall see how many flops like this DC comics can afford, before they hang Batman's and Superman's rope conclusively. Maybe DC comics should concentrate their own movies and leave Marvel's movies not to mimic.
**
___________________
Pääosissa
/ Starring
:
Ben Affleck
,
Gal Gadot
,
Jason Momoa
,
Henry Cavill
,
Ezra Miller
,
Ray Fisher
,
Connie Nielsen
,
Robin Wright
,
Billy Crudup
,
Amber Heard
,
Amy Adams
,
Diane Lane
,
Jeremy Irons
,
Jesse Eisenberg
,
Ciarán Hinds
Ensi-ilta/ Release Date: 15.11.2017 (Finland)
Kesto/ Length: 2h 00 min
Ikäraja/ Age Limit:  Argentina:13/ Australia:M/ Austria:10/ Brazil:12/ Canada:PG (Alberta)/ Canada:PG (British Columbia)/ Finland:K-12/ France:Tous publics/ Germany:12/ India:UA/ Indonesia:13+/ Ireland:12A/ Malaysia:P13/ Netherlands:1/ New Zealand:M/ Norway:12/ Philippines:PG-13/ Portugal:M/12/ Russia:12+/ Singapore:PG/ South Korea:12/ Sweden:11/ Switzerland:12/ Thailand:13/ United Kingdom:12A/ United States:PG-13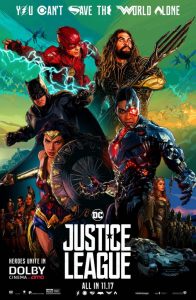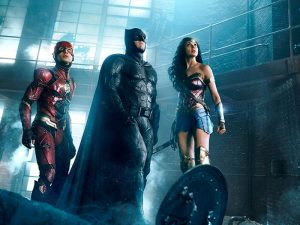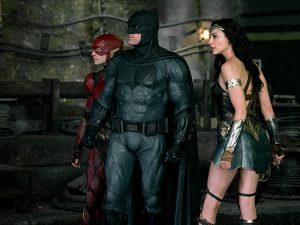 Synopsis:www.finnkino.fi/www.imdb.com
Kommentoi