Tarinankerronnan mestarin Guillermo del Toron uutuuselokuva THE SHAPE OF WATER on omalaatuinen satu, joka sijoittuu kylmän sodan aikoihin, vuoden 1962 Pohjois-Amerikkaan. Valtion salaisessa laboratoriossa työskentelevä Elisa (Sally Hawkins) on yksinäisyytensä vanki. Kun Elisa ja hänen kollegansa Zelda (Octavia Spencer) löytävät laboratorioon kätketyn salaisuuden, Elisan elämä muuttuu lopullisesti.
______________________
Guillermo del Toro osaa luoda visuaalisia ja komeita maisemia valkokankaille, eikä The Shape of Water tässä suhteessa petä. Elokuva on huikean kauniisti lavastettu ja visuaaliset efektit hienoja. Myös tarina on ihan kaunis, jokseenkin turhan suoraviivainen. Nyt, kun Oscarit on jaettu ja vaikka elokuva voittikin parhaan elokuvan Oscarin, uskaltaa kuitenkin hieman myös kritisoida kyseistä elokuvaa. Tarina ensinnäkin on melko epäuskottava rakkaustarina. Muihin Guillermo del Toron elokuviin jopa yllättävän ohut ja ennakoitava. Edes loppuratkaisu ei yllätä, mikä jättää hieman laimean vaikutelman koko elokuvasta. Sally Hawkinsin roolisuoritus on loistava ja se yhdessä elokuvan lavastuksen kanssa on elokuvan parasta antia. Lavastus on komeaa ja uskottavan tuntuista ja tuo mieleen vanhat 50-luvun fantasiaelokuvat. Ohjaus on ihan perusvarmaa, mutta onko se Oscarin arvoista, sitä voi jäädä miettimään.
Vaikka elokuva on Oscarinsa ansainnut, itselleni jäi kuitenkin hieman tyhjä olo elokuvasta. Itse en elokuvaa pidä viime vuoden parhaimpana elokuvana, mutta mikä minä olen arvostelemaan elokuva-akatemian päätöstä, joten olkoon niin, kuin on päätetty.
The Shape of Water on unenomainen, komea ja ihan katsottava fantasiaseikkailu. Vanhanaikainen lavastus ja kerronta ei ehkä kaikilta osilta kaikkia miellytä, kuten ei allekirjoittanuttakaan, mutta kaiken kaikkiaan Guillermo del Toron tuotannossa elokuva sijoittu mieluumminkin keskikastiin, kuin huipulle. Jokaisella on omat mielipiteensä ja tästäkin arviosta voi olla montaa mieltä. Jos haluat katsoa hienon fantasiaseikkailun ja jos voit antautua kohtuullisen tarinan vietäväksi on The Shape of Water ihan katsottava rakkaustarina.
***1/2
______________________
From master storyteller Guillermo del Toro comes THE SHAPE OF WATER, an otherworldly fable set against the backdrop of Cold War era America circa 1962. In the hidden high-security government laboratory where she works, lonely Elisa (Sally Hawkins) is trapped in a life of isolation. Elisa's life is changed forever when she and co-worker Zelda (Octavia Spencer) discover a secret classified experiment.
______________________
Guillermo del Toro knows how to make visually beautiful scenery to silver screen and The shape of Water makes no mistake. Movie is beautifully set it's visually effects outstanding. The story is also interesting even it is a little too straightforward. Now, when Oscar's are out I dare to make some criticize too. The story it self is quite lame and unbelievable love story. OK, it is a fairy tale, but somehow a love story between fish and a woman is quite stupid. Even the end scene won't surprise you and that is something not to expect in Guillermo del Toro's movie.
Sally Hawkins makes her role credibly and that with movie set is the most impressive in this movie. Set is beautiful and looks like many fantasy movies from -50's fantasy movies. Directing is good, but nothing special. Somehow I just waited something more from del Toro.
Even movie has well-earned it's Oscars, to me it left a little lame feeling. To me it surely is not the best movie of last year, but who am I to disparage movie academy's choice.
The Shape of Water is dreamlike, beautiful and watchable movie. Old fashion scenery and story telling may not satisfy all the viewers, like not me.
If you want to watch old fashion fantasy movie of love between fish man and mute woman you may even like it. To me it was just too lame. I just expected more of Guillermo del Toro movie.
***1/2
______________________
Ensi-ilta/ Release Date: 9.2.2018 (Finland)
Kesto/ Length: 2 t 4 min
Ohjaaja/ Director: Guillermo del Toro
Pääosissa/ Starring: Sally Hawkins, Octavia Spencer, Michael Shannon,Richard Jenkins, Michael Stuhlbarg, Doug Jones
Ikäraja/ Age Limit:  Argentina:16/ Australia:MA15/ Brazil:1/ Canada:14A (Alberta/British Columbia/Manitoba/Ontario/ Canada:13+ (Quebec/ Finland 16/  Germany:16/ Hong Kong:II/ Hungary:16/ Ireland:15/ Japan:R15/ Mexico:B15 (with warning/ Netherlands:16/ New Zealand:R16/ Norway:15/ Portugal:M/16/ Russia:18/ Singapore:M18/ South Africa:16/ South Korea:18/ Sweden:15/ Taiwan:R-15/ United Kingdom:15/ United States:R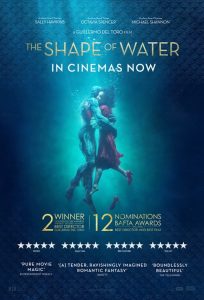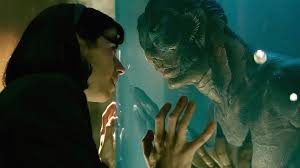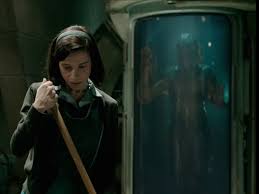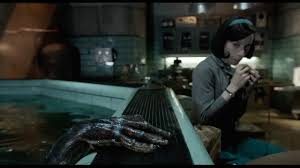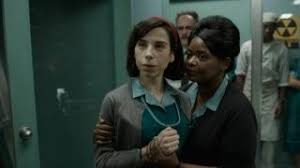 Synopsis:www.finnkino.fi/www.imdb.com
Kommentoi