Skywalker-saaga saa jatkoa Lucasfilmin elokuvassa Star Wars: The Last Jedi, kun The Force Awakens -elokuvasta tutut sankarit yhdistävät voimansa galaktisten legendojen kanssa ja matkaavat eeppiselle seikkailulle, jonka varrella kohdataan niin ikivanhoja arvoituksia kuin järisyttäviä paljastuksia menneisyydestä.
_________________
The Last Jedi on jo ehtinyt jakamaan fanikuntaa melkoisesti kahteen leiriin. Itse kuulun siihen leiriin, joka ei voi olla nauttimatta Star Wars elokuvasta kaikkinen puutteineenkin. Suurin ongelma The Last Jedissä on sen sirpaleisuus ja liian moneen asiaan keskittyminen. Onhan kysessä kuitenkin Skywalkerin perheen saagasta ennenkaikkea. Elokuva ei aivan alkuperäisen trilogian tapaan keskity tarpeeksi Skywalkerien tarinaan ja Reyn jättäminen Skywalkerien perhedraaman ulkopuolelle vain lisää hämmennystä. Se voi olla myös tarkoitus ja sarjan viimeinen elokuva saattaa tuoda tullessaan melkoisia yllätyksiä päähahmojen ja Skywlker suvun välille. Toivottavasti tuo, sillä silloin The Last Jedin virheet voi heposti unohtaa ja jättää omaan arvoonsa.
Elokuva on kuitenkin melko nautittavaa avaruussaippuaa ja sitä ei voi välttyä vertaamasta alkuperäisen trilogian Imperiumin vastaiskuun. Elokuva tuntuu paikoin melkein Imperiumin vastaiskun toisinnolta, mutta mukaan on saatu kuitenkin riittävästi hyviä juonenkäänteitä, ettei elokuva täysin toisinnolta tunnu. Jotakin jää kuitenkin kaipaamaan. Snoken tarinaa olisi hieman voinut avata ja pääpahiksen surmaaminen trilogian tässä vaiheessa tuntuu hieman hätiköidyltä. Tosin onhan Star Wars saagassa ennenkin lähes täydellisesti runnellut ihmistorsot palanneet seikkailemaan vrt. Darth Wader, joten mene ja tiedä, vaikka Snoke palaisi vielä seuraavassakin elokuvassa. Toinen häiritsevä asia on, miksi Rey ei kuule Skywalkerin tarinaan, vaikka onkin elokuvan keskiössä jää arvoitukseksi, mutta voihan se olla, että kaikkea ei vielä ole kerrottu ja tähänkin palataan vielä. Tarinan tyyliin olisi kuitenkin kuulunut edes pieni vihjailu Reyn menneisyyden ja Skywalkereiden yhteydellä, mutta tällä nyt mennään.
Lopputulos ei ole täydellinen Star Wars nautinto, vaikka ihan kelvollinen avaruussaippuaoopperan jakso onkin. Elokuva on uskomattoman komeaa katsottavaa ja se pääsee parhaiten oikeuksiinsa 3D formaatissa isolla valkokankaalla. Avaruuden musta tyhjyys tuntuu käsin kosketeltavalta syvältä tyhjyydeltä ja hyvin ohjatut takaa-ajot saavat olon tuntumaan huvipuiston vuoristoradassa istumiselta. Elokuva on pakko katsottavaa kaikille Star Wars faneille ja vaikka ei fani olisikaan eokuvan visuaalisuus on upeaa katsottavaa.
****1/2
_________________
Having taken her first steps into the Jedi world, Rey joins Luke Skywalker on an adventure with Leia, Finn and Poe that unlocks mysteries of the Force and secrets of the past.
__________________
Star Wars: The Last Jedi has already divided Star Wars fan to two camp, those who love it and those who hate it. Me myself belongs to that camp, who can not dislike any Star Wars movie. Biggest problem in The Last Jedi is it's fragmentation and focusing to tell too many stories. After all it is story of Skywalker family saga. Movie doesn't fixate enough of Skywalker story, like the original trilogy. For example leaving Rey out of the family drama even she is in the middle of story telling is a little baffling. Although it may be deliberate and the next movie may contain some big surprises. If so this is easy to forgive at this moment.
After all movie is quite satisfying space soap opera. In many times you start to compare it for original saga and The Empire Strikes Back. In many ways movie feels a variant of Empire Strikes Back, but there are enough of plot twist not to compare them too much. But something seems to miss. Killing Snoke at this point of trilogy feels a little precipitate. On the other hand, some of the big villains has already killed and still they came back to saga later, like what happened to Anakin Skywalker on third movie. Other thing is Rey not seems to be part of Skywalker saga, even she is in the middle of story telling. It may be that they haven't told us everything yet, but somehow it would been better to give some hint to us at this point if she somehow be part of Skywalker family saga after all.
Final Result is not perfect Star Wars enjoyment, even it is eligible space soap opera. Movie is brilliant to watch and it is best to watch in 3D as big silver screen as possible. Vastness of space feels really vast and star ship chases feels like sitting in a roller coaster ride. Movie is simply must to see for all Star Wars fans and even you haven't seen any Star Wars movie before, it is still visually stunning to see.
****1/2
__________________
Ensi-ilta/ Release Date: 13.12.2017
Kesto/ Length: 2h 32 min
Ikäraja/ Age Limit:
Australia:M/ Brazil:12/ Canada:PG (Alberta)/ Canada:PG (British Columbia)/ Finland 12/ Germany:12/ Indonesia:13+/ Ireland:12A/ Italy:T/ New Zealand:M/ Norway:12/ Philippines:G/ Russia:12+/ Singapore:PG/ South Korea:12/ Sweden:12/ United Kingdom:12 /United States:PG-13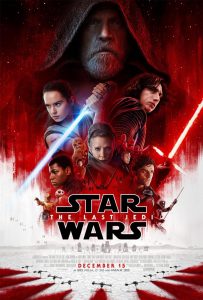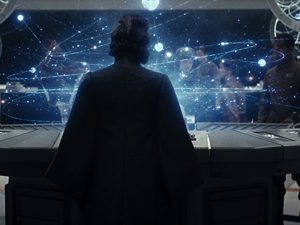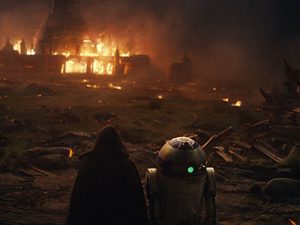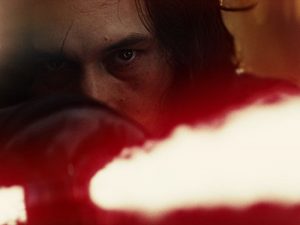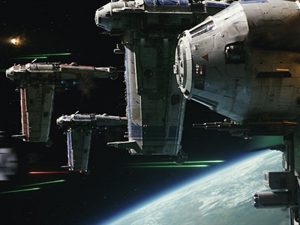 Synopsis:www.finnkino.fi/www.imdb.com
Kommentoi